TMJ Therapy
First Class Dental Experience
Your Partner in TMJ Therapy Excellence – The Journey to Relief
In the heart of Southern California, nestled amidst the sun-kissed landscapes of Orange County, A2 Dental Lounge stands as an emblem of excellence in the realm of dentistry. Specializing in TMJ Therapy, our team of skilled Orange County dentists is committed to helping you rediscover the joy of a pain-free smile. In this comprehensive guide, we will delve into the intriguing world of TMJ Therapy, demystifying what it is, who needs it, the available options, the treatment process, and, most importantly, why A2 Dental Lounge should be your first choice.
The Road to Relief: Understanding TMJ Therapy
Temporomandibular Joint Disorder, often abbreviated as TMJ, is a term that encompasses a range of painful conditions affecting the jaw joint and surrounding muscles. TMJ Therapy, also known as Temporomandibular Joint Therapy, is a specialized field within dentistry that focuses on diagnosing and treating these disorders. The temporomandibular joint serves as a hinge connecting your jaw to the temporal bones of your skull, allowing for the movement necessary for speaking, eating, and even expressing emotions.
A2 Dental Lounge's experienced team comprehends that TMJ issues can manifest in various ways, from jaw pain and headaches to clicking sounds when you chew. Our Orange County dental office is equipped with cutting-edge technology to provide accurate diagnoses and create personalized treatment plans. We recognize that no two cases are the same, and our approach is tailored to your unique needs.
Why Choose A2 Dental Lounge for TMJ Therapy
Amidst a sea of Orange County dentists, what sets A2 Dental Lounge apart in the realm of TMJ Therapy? The answer lies in our commitment to excellence and patient-centric care. Our team comprises highly skilled professionals who bring years of experience in the field. We continuously update our knowledge to stay on the cutting edge of TMJ treatments.
A2 Dental Lounge takes pride in maintaining an unwavering commitment to your well-being. Our Orange County dental office is designed to provide a serene and comfortable environment where you can feel at ease throughout your TMJ Therapy journey. We work closely with each patient, ensuring that they fully understand their condition and the recommended treatment. Your health and satisfaction are our utmost priorities.
A Path to a Pain-Free Smile
In the picturesque landscape of Orange County, California, where the sun's warmth is matched only by the warmth of our care, A2 Dental Lounge stands as a beacon of hope for those seeking relief from the burdens of TMJ disorders. Our dedication to the science and art of dentistry, coupled with our unwavering commitment to your well-being, sets us apart as the leading Orange County dentists in TMJ Therapy.
If you or a loved one is grappling with the challenges of TMJ disorders, look no further than A2 Dental Lounge. Contact our Orange County dental office to embark on a journey toward a pain-free smile. Our team of dedicated professionals is ready to guide you through every step of the process, offering personalized solutions that cater to your unique needs. Don't let TMJ pain hold you back any longer. Choose A2 Dental Lounge, and let us pave the way for your path to a pain-free smile.
Nicola Casale
"A2 Dental Lounge is the best practice ever! Gorgeous and luxurious design with state of the art technology. The staff is amazing – so kind, caring and thoughtful. They always asked how they could make the treatment the best experience and you even receive a warm washcloth after your cleaning! Dr. Arman was attentive, gentle and communicated during each step of the appointment. For anyone fearful of the dentist, this is your place! They will make you feel comfortable, put you at ease and ensure that your time with them is only positive."
WHY CHOOSE US
Our dedicated team of Orange County dentists provide personalized attention while listening to your concerns and goals. Through collaborative decision-making, we create a customized treatment plan aligned with your desires. With our unmatched expertise and compassion, trust that your smile is in the hands of professionals committed to helping you achieve the smile you deserve. Experience an elevated dental journey in our state-of-the-art facility, where comfort and advanced technology meet. At A2 Dental Lounge, your smile is our passion, and we are here to help you shine confidently with every beam.
We offer a comprehensive range of dental services, ensuring that all your oral health needs can be met under one roof. Whether you require routine check-ups and cleanings, cosmetic dentistry procedures or oral periodontal surgery, our skilled team can provide the necessary care.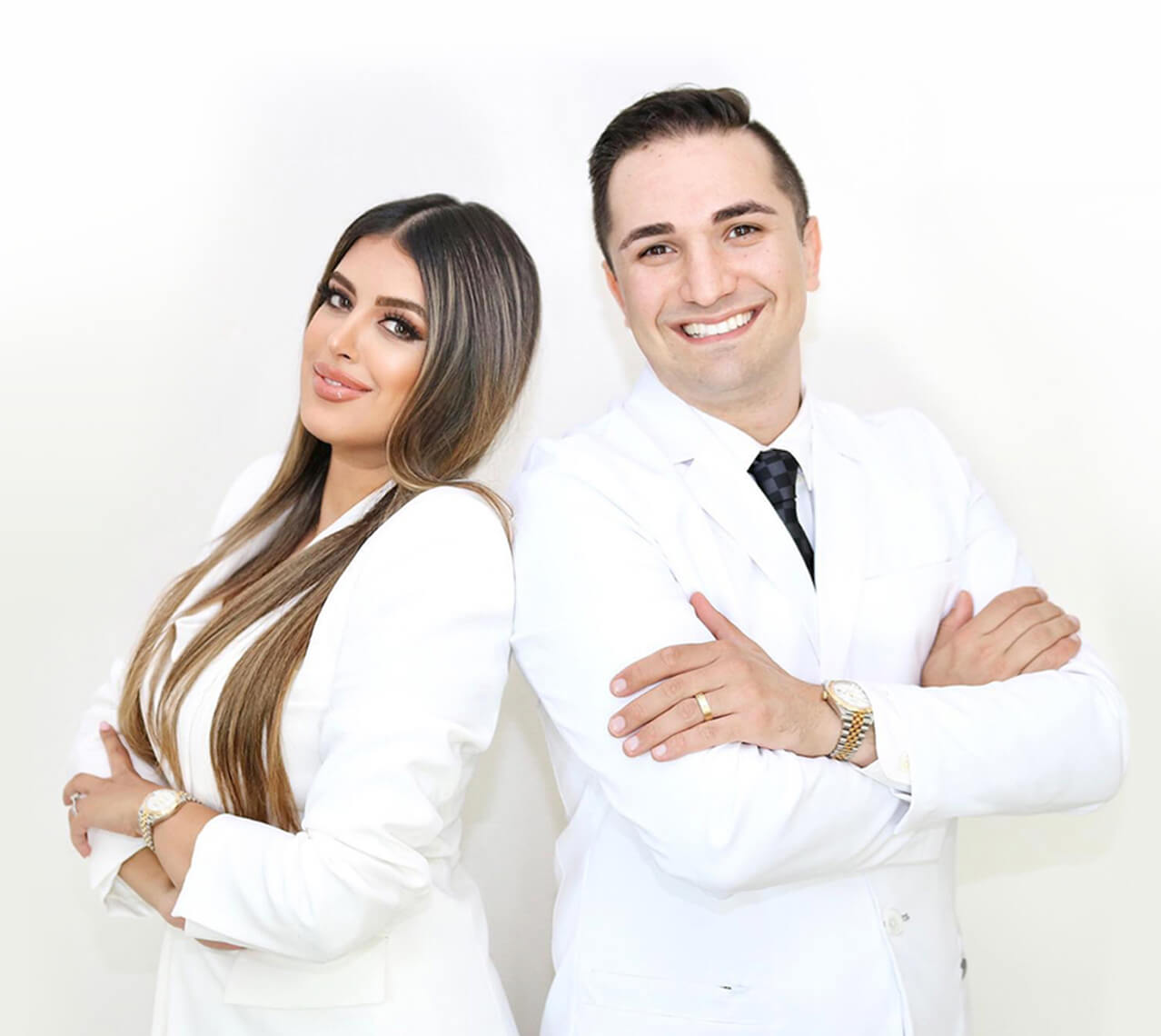 Frequently Asked Questions
TMJ therapy refers to the various treatments and interventions aimed at managing and alleviating temporomandibular joint disorders and related symptoms.
Common symptoms include jaw pain, facial pain, headaches, clicking or popping sounds in the jaw joint, difficulty in opening and closing the mouth, and earaches.
TMJ disorders can have multiple causes, including jaw misalignment, teeth grinding (bruxism), stress, arthritis, trauma, and muscle tension in the jaw and neck.
Diagnosis typically involves a clinical examination by a dentist or oral surgeon, a review of the patient's medical history, and, in some cases, imaging studies like X-rays or MRI scans.
Conservative treatments may include lifestyle changes, jaw exercises, physical therapy, and the use of oral appliances, such as splints or night guards.
Oral appliances like splints or night guards can reposition the jaw, reduce clenching or grinding, and relieve pressure on the temporomandibular joint.
Surgery is usually considered a last resort when conservative treatments fail. Surgical options may include arthrocentesis, arthroscopy, or open joint surgery to repair or replace the joint.
Yes, stress reduction techniques like relaxation exercises, meditation, and counseling can help manage TMJ symptoms by reducing muscle tension in the jaw and neck.
The timeframe for improvement in TMJ symptoms varies depending on the severity of the condition and the chosen treatment. Some individuals experience relief within weeks, while others may take longer.
Coverage for TMJ therapy may vary among dental insurance plans. Patients should check with their insurance provider to determine their specific coverage.
Paying For Your Dental Implants
We accept dental insurance
Payment plan options available
CareCredit financing accepted
Cindy Escude
Dr. Shahriar Agahi is at the top of his field regarding both his technical expertise and communication skills. He fosters an open, communication link with and for his patients. He exhibits endless patience as he outlines procedural options and related details; in addition to, addressing any and all questions and/or concerns his patient has. His technical knowledge and skills are of expert caliber Through Dr. Agahi's kindness, insight, patience, thoughtfulness, understanding. knowledge and genuine concern, he provides his patients with Five Star Care times two! As a fyi, a bit of my background to support my belief of Dr. Agahi as an excellent Medical Provider. Over the years, due to many aggressive surgeries and treatments, I deal with complex, chronic medical challenges each and every day. Through the years, my issues require consultations and/or treatments with a wide range of Providers whose expertise crosses into numerous specialized areas. My complex dental environment significantly deteriorated the past few years, reaching a dangerous level of severity the summer of 2022.

After extensive research, God's blessing and a little luck, I had a consultation with a Specialist practicing in CA, while I reside in Utah … it was Dr Agahi. Since then, we have had many discussions regarding treatment options and detailed procedures in conjunction with my challenging medical conditions. Our conversations led to a treatment plan, scheduled surgeries of 15+ hours, many trips to CA and a healthy dental environment, in progress today, which includes 12 successful implants. With my extensive medical history and the fact I needed to consult with over 70+ Specialists, I have been exposed to numerous methods of practicing medicine within my Team. I shared a bit of myself with you to justify my ranking of Dr. Agahi within the top Specialists 5 of my entire Medical Provider Team. In addition to his technical knowledge and skills, I value most his gift to communicate and treat his patient as an individual, a person he has concerns for, an individual he cares about! I am most grateful to have found Dr. Agahi and have him as a key, crucial member of my Medical Support Team; he's the Best!
write to our
Dental Office