Porcelain Dental Veeners
First Class Dental Experience
Enhancing Smiles with Porcelain Dental Veneers
Creating captivating smiles is an art form, and at A2 Dental Lounge, your trusted Orange County dental office, we specialize in the transformative power of Porcelain Dental Veneers. These custom-made, wafer-thin shells of porcelain are meticulously crafted to bond seamlessly to the front surface of your teeth, instantly enhancing their appearance and restoring your confidence. Designed to mimic the natural look and feel of real teeth, Porcelain Dental Veneers are a versatile solution for a range of dental imperfections.
Our Procedure: At A2 Dental Lounge, our team of highly skilled Orange County dentists is committed to providing you with an exceptional experience throughout your Porcelain Dental Veneers journey. The process begins with a comprehensive consultation, during which our experts assess your unique dental needs and goals. Using state-of-the-art technology and their artistic expertise, our dentists will carefully design your personalized veneers to achieve the desired shape, shade, and symmetry.
Aesthetic Excellence and Long-lasting Results
Choosing Porcelain Dental Veneers at our esteemed Orange County dental office grants you an array of remarkable benefits. Firstly, these veneers are incredibly natural-looking, reflecting light in a manner similar to real teeth. The porcelain material resists staining, allowing you to enjoy a vibrant smile for years to come. Additionally, Porcelain Dental Veneers are highly durable, withstanding everyday wear and tear with ease.
Beyond the aesthetic advantages, veneers can improve your dental health. By repairing cracks, chips, or misalignments, they enhance the structural integrity of your teeth and may even contribute to more efficient chewing and improved oral hygiene.
Entrust your smile to the premier Orange County dentists at A2 Dental Lounge and experience the life-changing impact of Porcelain Dental Veneers. With our commitment to excellence, artistry, and patient-centered care, we are dedicated to providing you with the smile you've always dreamed of. Contact our Orange County dental office today to schedule your consultation and embark on a journey to a more confident, radiant you.
Nicola Casale
"A2 Dental Lounge is the best practice ever! Gorgeous and luxurious design with state of the art technology. The staff is amazing – so kind, caring and thoughtful. They always asked how they could make the treatment the best experience and you even receive a warm washcloth after your cleaning! Dr. Arman was attentive, gentle and communicated during each step of the appointment. For anyone fearful of the dentist, this is your place! They will make you feel comfortable, put you at ease and ensure that your time with them is only positive."
WHY CHOOSE US
Our dedicated team of Orange County dentists provide personalized attention while listening to your concerns and goals. Through collaborative decision-making, we create a customized treatment plan aligned with your desires. With our unmatched expertise and compassion, trust that your smile is in the hands of professionals committed to helping you achieve the smile you deserve. Experience an elevated dental journey in our state-of-the-art facility, where comfort and advanced technology meet. At A2 Dental Lounge, your smile is our passion, and we are here to help you shine confidently with every beam.
We offer a comprehensive range of dental services, ensuring that all your oral health needs can be met under one roof. Whether you require routine check-ups and cleanings, cosmetic dentistry procedures or oral periodontal surgery, our skilled team can provide the necessary care.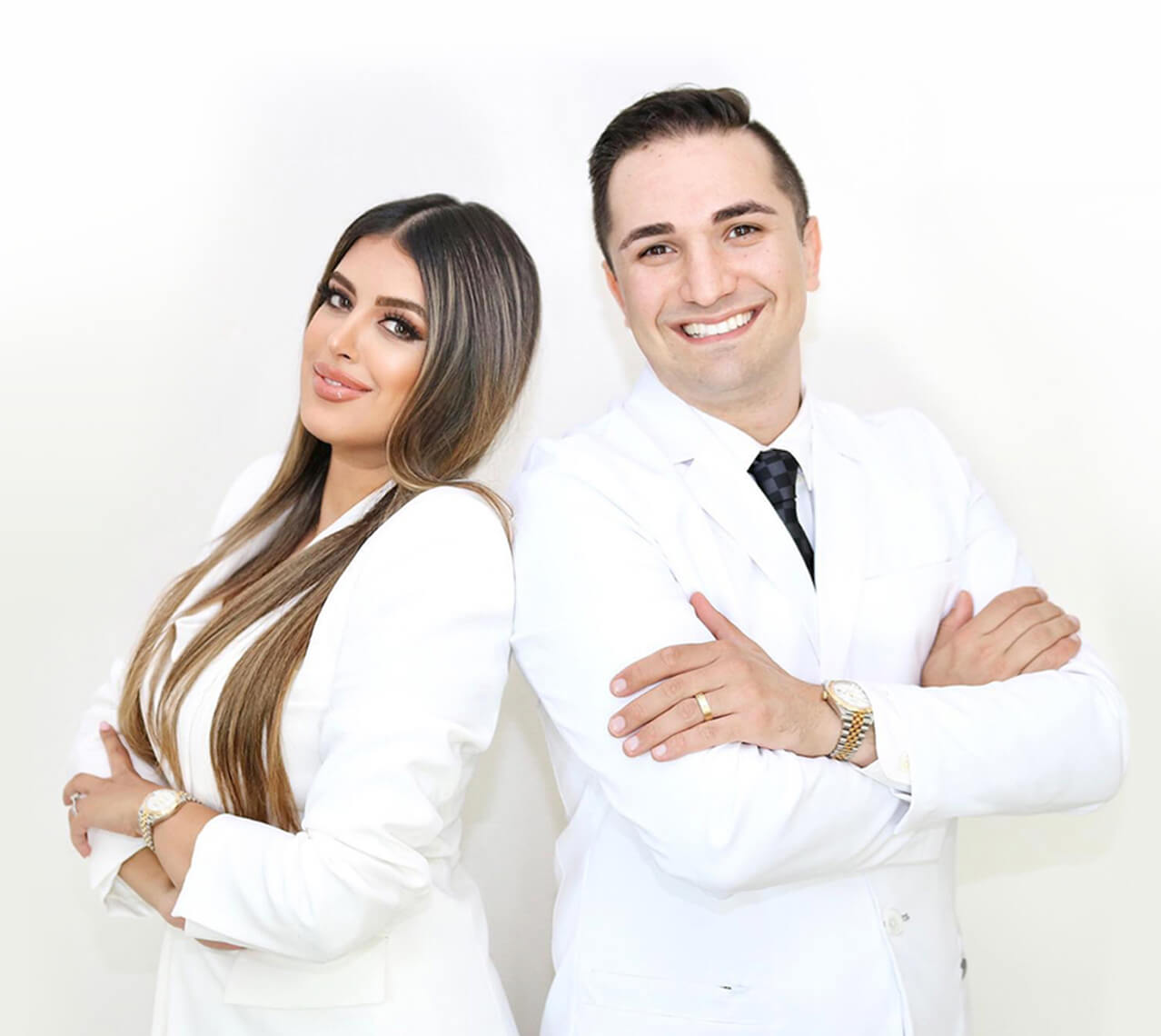 Frequently Asked Questions
Porcelain dental veneers are thin, custom-made shells of porcelain that are bonded to the front surface of teeth to improve their appearance and address cosmetic issues.
Porcelain veneers can be used to correct various cosmetic dental problems, including discolored, stained, chipped, misaligned, or unevenly shaped teeth.
Porcelain veneers are made of a durable ceramic material and are known for their natural appearance and stain resistance. Composite veneers are made of resin and are typically more affordable but may not last as long or look as natural.
The process typically involves consultation, tooth preparation, impression-taking, veneer fabrication, and bonding. The entire process may take a few weeks to complete.
Porcelain veneers are considered a permanent cosmetic dental solution because a small amount of enamel is usually removed from the tooth's surface during the preparation process. However, they may need replacement over time due to wear or damage.
Porcelain veneers do not require special care. Regular brushing, flossing, and dental check-ups are sufficient to maintain them. Avoiding excessive force or biting hard objects can help prolong their lifespan.
Porcelain veneers can last for 10 to 15 years or more with proper care. The lifespan may vary depending on factors such as oral hygiene and biting forces.
Yes, porcelain veneers are known for their natural appearance. They can be customized in terms of color, shape, and translucency to match the surrounding teeth.
Porcelain veneers can improve the appearance of slightly misaligned teeth and close small gaps. However, for more severe misalignments or spacing issues, orthodontic treatment may be recommended.
The process of preparing teeth for porcelain veneers involves the removal of a small amount of enamel, which is not reversible. Once enamel is removed, it cannot be restored. However, the veneers themselves can be removed and replaced if needed.
Paying For Your Dental Implants
We accept dental insurance
Payment plan options available
CareCredit financing accepted
ArooshaFit
Okay WOW! Where do I even begin!?
This was hands down the best dentist experience I've ever had.
I'm not someone that enjoys going to the dentist & I try to avoid it at all costs but my mom was raving about their services so I decided to finally go in.
As soon as you step in the aesthetics are just beautiful, there's comfortable couches, the staff is very friendly & offered me coffee/water.
I was given a little checklist to select some things they offer to make my experience more comfortable, when I entered the room there was a lavender like smell, a heated pillow around my neck, a blanket, a TV on the top so when I was laying in the chair I could see a beautiful scenic video and was given headphones with relaxing music playing (you can change the channel too).
I felt like I was in a spa!!
Dr Arman was SO professional and explained everything very well.
I was in & out in a timely manner too.
I already have my next appointment booked & looking forward to going back.
I left feeling great and that's not normal for me after a dentist appointment.
Highly highly recommend A2 dental! They're the BEST, I can confidently say I'm never going back to another dentist again.
write to our
Dental Office