Meet the Doctors
First class Dental Experience
the doctors
A2 Co-Founders
Dr. Arman and Dr. Agahi met for the first time in Las Vegas, NV in 2012, where they were both pursuing their dental degrees at the UNLV School of Dental Medicine. After graduating with top honors, the A2 couple found themselves facing a pivotal moment in their lives. Rather than pursuing separate career paths, they decided to combine their knowledge, skills, and dreams to build something extraordinary together. They set out on a journey to create their dream dental practice, where they could provide exceptional care in a warm and welcoming environment.
Their once dream would now be established in August 2022 as A2 Dental Lounge; Implant, Cosmetic, & Sedation Dentistry. A fresh and modern dental practice where their love for dentistry, each other, and their patients could shine through. From custom finishes to state-of-the-art equipment, every step of the process was meticulously planned by both of them.
Their mission has been set to deliver comprehensive and customized dental care in a modern, refreshing, luxurious and relaxing atmosphere that is also affordable for everyone. A combination of qualities and characteristics that sets A2 Dental Lounge apart from any other dental practice.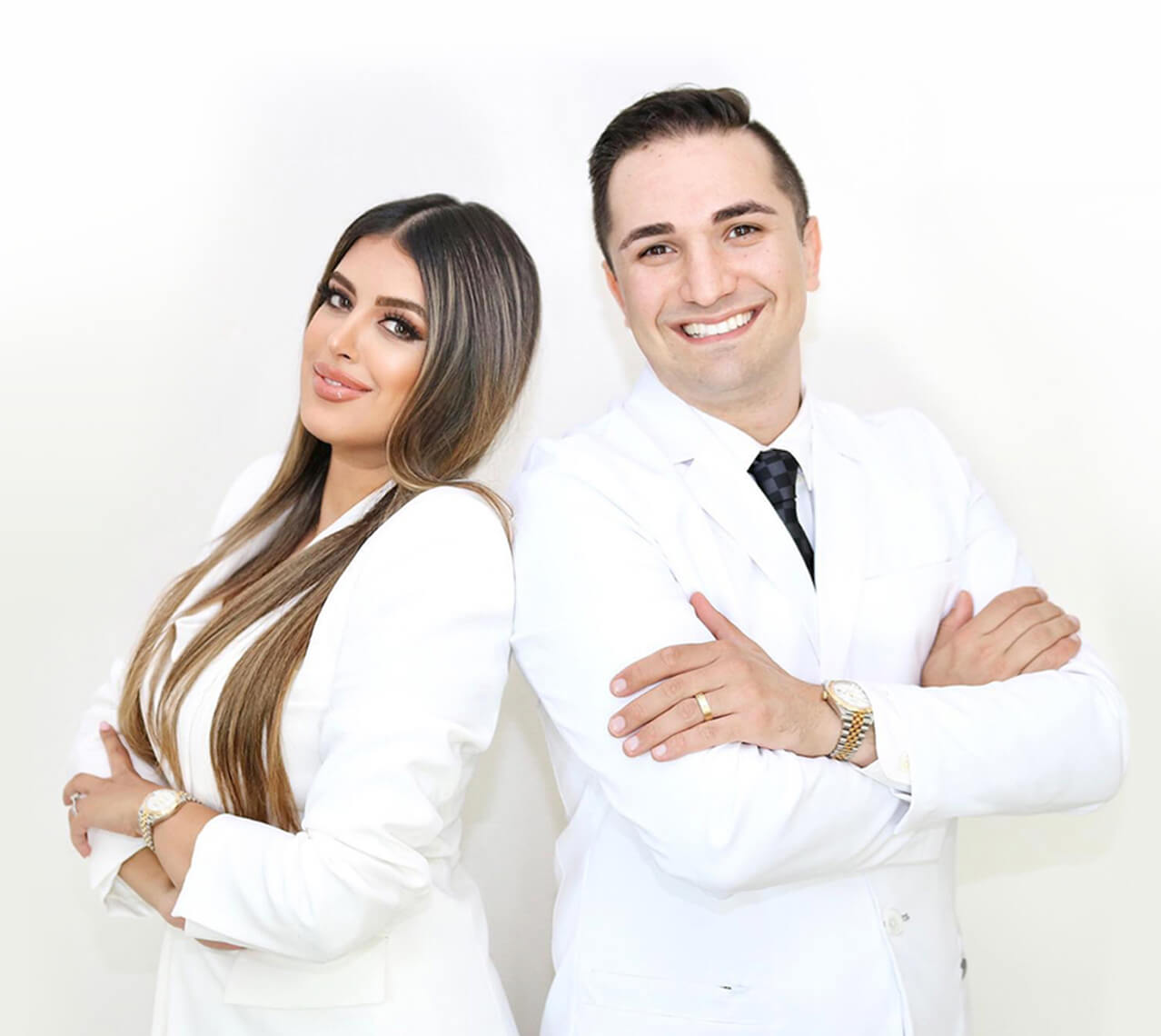 MEET
Dr. Marjan Arman, D.D.S.
Raised in a family of doctors and dentists, Dr. Arman developed a strong passion for science and healthcare early on during high school. She began her dental career at Tehran Azad University and graduated in the top 5% of her graduating class in 2013. She then started practicing as a general dentist for a few years before moving to the States.
Dr. Arman continued to further her skills and knowledge in dentistry as she successfully completed the D.D.S. program at the University of Nevada, Las Vegas, UNLV School of Dental Medicine, where she earned her second D.D.S. degree and was the recipient of numerous distinguished and honorary recognitions.
Dr. Arman is a general dentist who specializes in minimally invasive restorative and cosmetic dentistry. Her attention to details and her unique sense of art and creativity sets her apart as she strives to provide the highest quality of dental treatments customized towards each of her patients' needs and desires. Dr. Arman believes the most rewarding part of her dental career is helping someone feel more confident about their smile.
On her free time Dr. Arman enjoys art, music, design and travel. As a matter of fact, the interior design and final selections at A2 Dental Lounge were all thanks to her vision and passion for creating a unique and first-class experience for all patients.
Services Provided
Veneers
Crowns and Bridges
Extractions
Root Canals
Complete & Partial Dentures
Composite Fillings
Periodontal Treatment
Tooth Whitening
Clear Aligners
MEET
Dr. Shahriar Agahi, D.M.D, M.S., M.B.A.
Dr. Agahi moved to Southern California at age 16 where he attended Aliso Niguel High School. He was then accepted to University of California Los Angeles, UCLA where he completed his B.S. & B.A. undergraduate studies in Physiology and Near Eastern Studies.
Dr. Agahi began his dental career at University of Nevada Las Vegas, UNLV School of Dental Medicine and graduated in 2016 as a distinguished general dentist. He then started practicing as a general dentist during which time he completed over 500 hours of continuing education in different fields of dentistry.
Dr. Agahi found his passion to become a Periodontist because he felt that was the best way he could help his patients improve not only their smiles but their overall oral and systemic health. To pursue this career path, he was accepted to the advanced periodontology program at the University of Southern California, USC. He completed a 3-year residency mastering all phases of modern periodontal therapy and dental implant surgery, using advanced techniques and materials.
Dr. Agahi is a certified periodontist who specializes in dental implant surgery and the prevention, diagnosis, and treatment of periodontal disease. Dr. Agahi also specializes in esthetic and functional soft tissue surgeries and takes pride in his interdisciplinary and individually customized treatment planning and execution approach.
On his free time Dr. Agahi enjoys playing piano or acoustic guitar.
Services Provided
Treatment of Periodontally Compromised teeth (guided tissue regeneration, osseous surgery, crown lengthening)
Soft Tissue Grafting (CTG, FGG)
Aesthetic Crown Lengthening
Dental Implant Surgery (Single unit, full arch)
Bone Grafting (block graft, guided bone regeneration)
Sinus Augmentation (lateral window, vertical sinus)
Extractions and Socket Grafting
Third Molar Extractions
Exposure of Impacted Teeth for Orthodontic Treatment
PRF Preparation
IV Moderate Conscious Sedation