Aesthetic Crown Lengthening
First Class Dental Experience
Aesthetic Crown Lengthening at A2 Dental Lounge
In the ever-evolving world of cosmetic dentistry, Aesthetic Crown Lengthening has emerged as a sophisticated and transformative procedure that promises more than just a radiant smile. Nestled in the heart of Orange County, A2 Dental stands out as the epitome of excellence, offering a range of services that include Aesthetic Crown Lengthening. In this comprehensive guide, we invite you to delve into the intricacies of this procedure, explore who can benefit from it, unearth its myriad advantages, understand the process, and discover why choosing Orange County dentists at A2 Dental is the ultimate choice.
What is Aesthetic Crown Lengthening
Aesthetic Crown Lengthening, also known as gum contouring, is a cutting-edge dental procedure designed to enhance the aesthetics of your smile. It involves the careful removal of excess gum tissue to reveal more of the tooth's surface. This artistic approach is not merely about creating a stunning grin; it's also essential for individuals who face functional issues such as short teeth or uneven gum lines. When it comes to Aesthetic Crown Lengthening, A2 Dental boasts an exceptional team of professionals who are dedicated to crafting perfect smiles for their patients.
The advantages of Aesthetic Crown Lengthening extend far beyond aesthetics. First and foremost, it enhances your smile, boosting your self-confidence and leaving a lasting impression. But that's not all; this procedure can also improve your oral health. By exposing more of the tooth's surface, you gain easier access for cleaning and better oral hygiene. Aesthetic Crown Lengthening can correct irregular gum lines and facilitate dental procedures like crowns or veneers, ensuring a perfect fit. At A2 Dental, we understand that your smile is your signature, and our expert Orange County dentists will help you realize its full potential.
Your Smile Deserves the Best in Orange County
Selecting the right Orange County dentists for your Aesthetic Crown Lengthening is paramount. At A2 Dental, we stand as the epitome of excellence. Our team of highly trained and experienced professionals is committed to ensuring your comfort and satisfaction throughout the entire process. We utilize cutting-edge techniques and technology to deliver exceptional results with minimal discomfort. We understand that a beautiful smile can transform lives, and our meticulous approach to Aesthetic Crown Lengthening reflects that commitment.
In conclusion, Aesthetic Crown Lengthening is not just a cosmetic procedure; it's a journey towards a more confident, healthier, and radiant you. At A2 Dental, our Orange County dentists have perfected the art of Aesthetic Crown Lengthening, ensuring that your smile is a masterpiece. We invite you to experience the transformation for yourself by visiting our Orange County dental office, where we offer a range of dental services beyond Aesthetic Crown Lengthening.
With a team of experts dedicated to your oral health, we provide comprehensive dental care, including general dentistry, cosmetic dentistry, orthodontics, and more. By choosing A2 Dental, you're choosing excellence, artistry, and a lifelong commitment to your well-being. Book your appointment today and let us illuminate your smile and transform your life. Your journey to dental excellence begins here.
Nicola Casale
"A2 Dental Lounge is the best practice ever! Gorgeous and luxurious design with state of the art technology. The staff is amazing – so kind, caring and thoughtful. They always asked how they could make the treatment the best experience and you even receive a warm washcloth after your cleaning! Dr. Arman was attentive, gentle and communicated during each step of the appointment. For anyone fearful of the dentist, this is your place! They will make you feel comfortable, put you at ease and ensure that your time with them is only positive."
WHY CHOOSE US
Our dedicated team of Orange County dentists provide personalized attention while listening to your concerns and goals. Through collaborative decision-making, we create a customized treatment plan aligned with your desires. With our unmatched expertise and compassion, trust that your smile is in the hands of professionals committed to helping you achieve the smile you deserve. Experience an elevated dental journey in our state-of-the-art facility, where comfort and advanced technology meet. At A2 Dental Lounge, your smile is our passion, and we are here to help you shine confidently with every beam.
We offer a comprehensive range of dental services, ensuring that all your oral health needs can be met under one roof. Whether you require routine check-ups and cleanings, cosmetic dentistry procedures or oral periodontal surgery, our skilled team can provide the necessary care.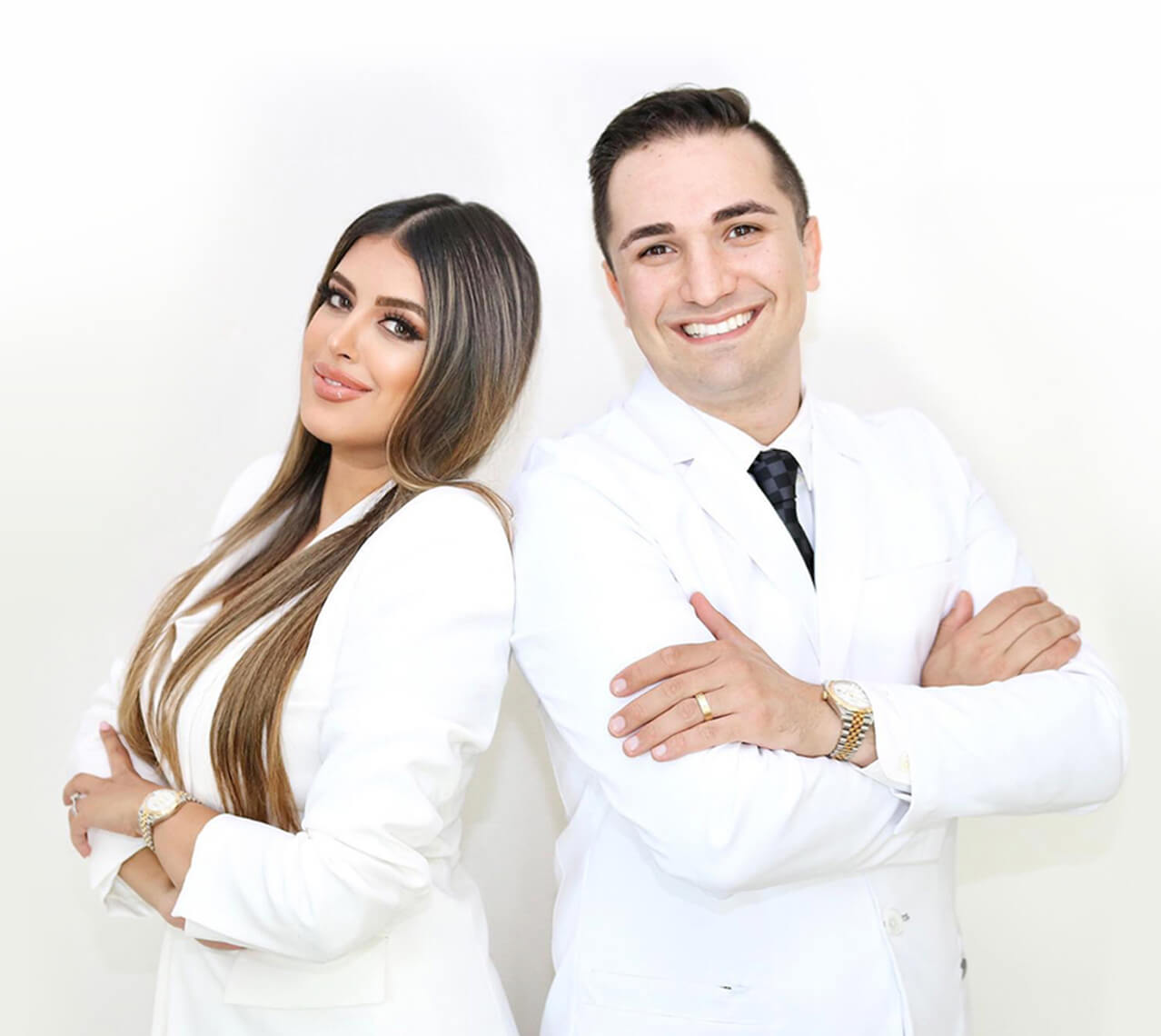 Frequently Asked Questions
Aesthetic crown lengthening is a surgical dental procedure performed to improve the appearance of the teeth by adjusting the level of the gumline and exposing more of the tooth's surface.
Individuals may choose aesthetic crown lengthening to address a "gummy smile," where an excessive amount of gum tissue covers the teeth, making them appear short. This procedure can create a more balanced and attractive smile.
During the procedure, a periodontist or oral surgeon removes excess gum tissue and, if necessary, a small amount of bone to reveal more of the tooth structure. The gumline is then reshaped to achieve a more aesthetically pleasing result.
Aesthetic crown lengthening is typically performed under local anesthesia, so patients should not feel pain during the procedure. Some post-operative discomfort is normal and can be managed with pain medications.
The recovery period varies, but most patients can return to normal activities within a few days to a week after the procedure. It's important to follow post-operative care instructions provided by the dentist.
While complications are rare, potential risks include infection, swelling, or uneven gumline. Choosing an experienced dental professional can help minimize these risks.
Aesthetic crown lengthening can provide long-lasting results. However, the aesthetics may be influenced by factors like gum health, aging, and dental hygiene practices.
Yes, aesthetic crown lengthening is often performed in conjunction with other cosmetic treatments such as veneers or dental bonding to achieve a more harmonious and attractive smile.
Aesthetic crown lengthening is typically considered a cosmetic procedure and may not be covered by dental insurance. Patients should check with their insurance provider for specific coverage details.
Suitable candidates include individuals with a gummy smile or those who desire a more balanced and aesthetically pleasing smile. A consultation with a qualified periodontist or oral surgeon can determine candidacy.
Aesthetic crown lengthening is a valuable procedure for individuals seeking to enhance the appearance of their smile. It's essential to consult with a dental professional to assess your specific needs and discuss the procedure in detail.
Paying For Your Dental Implants
We accept dental insurance
Payment plan options available
CareCredit financing accepted
Cindy Escude
Dr. Shahriar Agahi is at the top of his field regarding both his technical expertise and communication skills. He fosters an open, communication link with and for his patients. He exhibits endless patience as he outlines procedural options and related details; in addition to, addressing any and all questions and/or concerns his patient has. His technical knowledge and skills are of expert caliber Through Dr. Agahi's kindness, insight, patience, thoughtfulness, understanding. knowledge and genuine concern, he provides his patients with Five Star Care times two! As a fyi, a bit of my background to support my belief of Dr. Agahi as an excellent Medical Provider. Over the years, due to many aggressive surgeries and treatments, I deal with complex, chronic medical challenges each and every day. Through the years, my issues require consultations and/or treatments with a wide range of Providers whose expertise crosses into numerous specialized areas. My complex dental environment significantly deteriorated the past few years, reaching a dangerous level of severity the summer of 2022.

After extensive research, God's blessing and a little luck, I had a consultation with a Specialist practicing in CA, while I reside in Utah … it was Dr Agahi. Since then, we have had many discussions regarding treatment options and detailed procedures in conjunction with my challenging medical conditions. Our conversations led to a treatment plan, scheduled surgeries of 15+ hours, many trips to CA and a healthy dental environment, in progress today, which includes 12 successful implants. With my extensive medical history and the fact I needed to consult with over 70+ Specialists, I have been exposed to numerous methods of practicing medicine within my Team. I shared a bit of myself with you to justify my ranking of Dr. Agahi within the top Specialists 5 of my entire Medical Provider Team. In addition to his technical knowledge and skills, I value most his gift to communicate and treat his patient as an individual, a person he has concerns for, an individual he cares about! I am most grateful to have found Dr. Agahi and have him as a key, crucial member of my Medical Support Team; he's the Best!
write to our
Dental Office