Implant Services
First Class Dental Experience
IMPLANT
In our modern, fast-paced world, a dazzling smile holds the power to leave a lasting impression. Yet, dental problems can often shatter our self-assurance, urging us to seek advanced solutions that can revive our smiles and overall oral health. Welcome to the extraordinary realm of dental implants—a groundbreaking innovation in the field of dentistry. Within this comprehensive guide, we will delve into the captivating world of dental implants, illuminating their myriad benefits, the intricacies of the procedure, and how A2 Dental, the foremost Orange County dental office, can guide you on the path to rediscovering your smile and reclaiming your confidence.
Implants
When it comes to dental implants, A2 Dental Lounge stands out among dental offices in Orange County, California. Our team's expertise and unwavering dedication ensure that you receive the highest level of care. We approach each case with compassion, tailoring our treatment to your unique needs, so you can confidently entrust us with your smile transformation.
Step into the future of dental care at A2 Dental Lounge, where our state-of-the-art facilities elevate your dental experience to new heights. Our Orange County dental office is equipped with cutting-edge technology and modern amenities, enabling us to deliver top-quality treatment in a comfortable and welcoming environment. From the moment you walk through our doors, you'll feel the difference in the level of care we provide. Our commitment to excellence extends beyond clinical expertise, encompassing every aspect of your visit to ensure that you feel relaxed, at ease, and confident in the exceptional care you receive.
Smile Confidently Again!
Dental implants are advanced solutions designed to replace missing teeth. They consist of a biocompatible titanium post that is surgically inserted into the jawbone, providing a durable foundation for prosthetic teeth. What sets implants apart from traditional dentures is their ability to fuse with the jawbone, ensuring stability and a natural look and feel. This process, known as osseointegration, allows the implants to become a permanent part of the mouth.
Restored Confidence and Functionality: Rediscover Life's Simple Joys
Preserving Jawbone Health: Nurturing the Foundation of Your Smile
Seamless Beauty: A Natural Smile Makeover
Implant Placement with Care: Your Comfort is Our Priority
Nicola Casale
"A2 Dental Lounge is the best practice ever! Gorgeous and luxurious design with state of the art technology. The staff is amazing – so kind, caring and thoughtful. They always asked how they could make the treatment the best experience and you even receive a warm washcloth after your cleaning! Dr. Arman was attentive, gentle and communicated during each step of the appointment. For anyone fearful of the dentist, this is your place! They will make you feel comfortable, put you at ease and ensure that your time with them is only positive."
WHY CHOOSE US
Our dedicated team of Orange County dentists provide personalized attention while listening to your concerns and goals. Through collaborative decision-making, we create a customized treatment plan aligned with your desires. With our unmatched expertise and compassion, trust that your smile is in the hands of professionals committed to helping you achieve the smile you deserve. Experience an elevated dental journey in our state-of-the-art facility, where comfort and advanced technology meet. At A2 Dental Lounge, your smile is our passion, and we are here to help you shine confidently with every beam.
We offer a comprehensive range of dental services, ensuring that all your oral health needs can be met under one roof. Whether you require routine check-ups and cleanings, cosmetic dentistry procedures or oral periodontal surgery, our skilled team can provide the necessary care.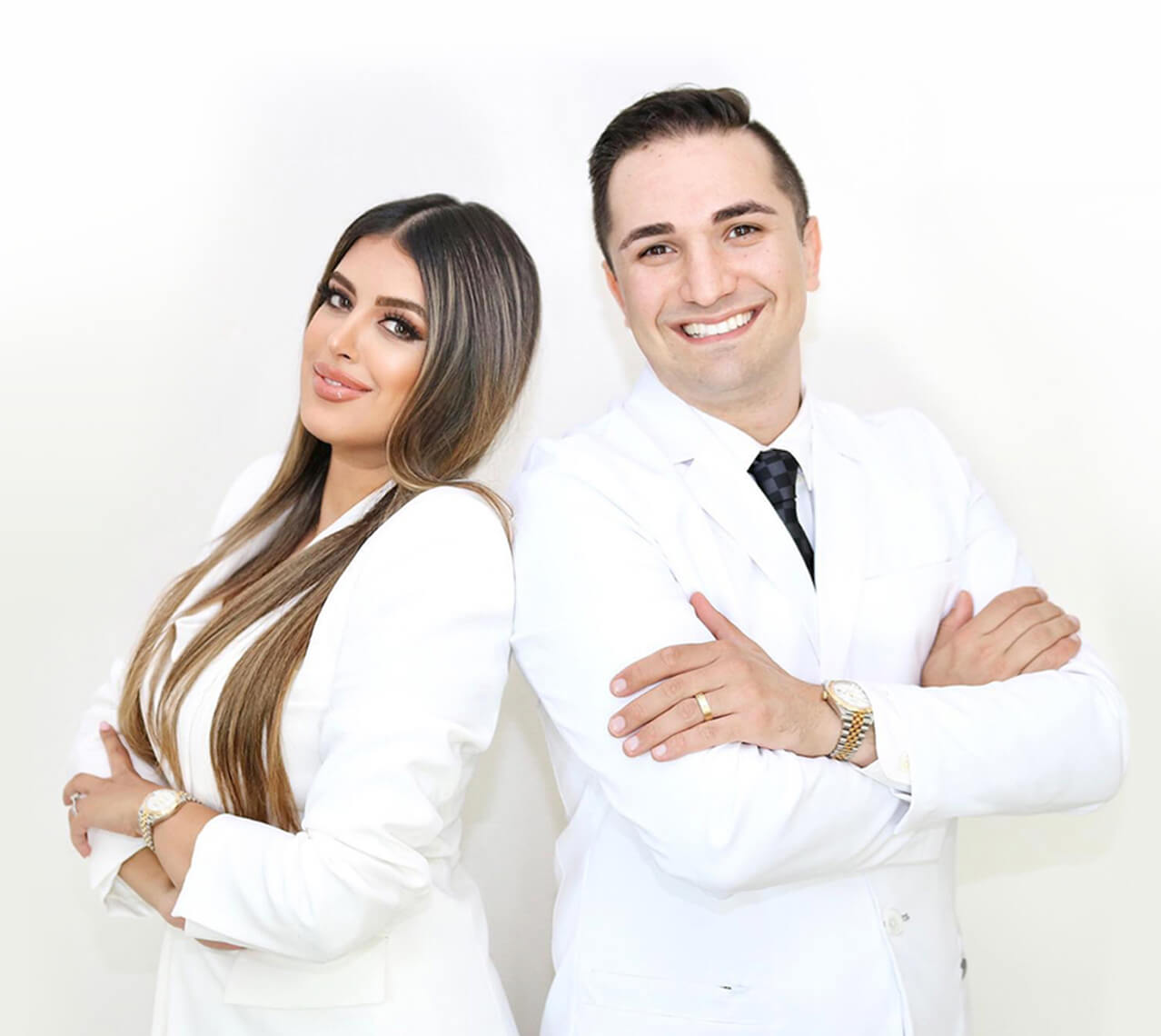 Frequently Asked Questions
Dental implants are artificial tooth roots made of titanium that are surgically placed into the jawbone to support replacement teeth, such as crowns, bridges, or dentures.
Generally, individuals with good overall health, adequate jawbone density, and healthy gums are suitable candidates for dental implants. However, a thorough evaluation by a dentist is necessary to determine eligibility.
The duration varies depending on individual circumstances, but it typically takes several months to complete the entire dental implant process, including healing and integration of the implant with the bone.
Yes, dental implants are designed to closely resemble natural teeth in both appearance and function. They provide a natural look and feel, allowing patients to chew, speak, and smile with confidence.
During the implant placement surgery, local anesthesia is used to numb the area, ensuring the procedure is virtually painless. Some discomfort may be experienced during the healing process, which can be managed with pain medication.
Dental implant success rates are generally high, ranging from 95% to 98% when placed by experienced professionals. Proper aftercare and maintenance play a significant role in the long-term success of implants.
Smokers can receive dental implants, but they may have a slightly higher risk of complications such as implant failure and infection. Dentists often recommend quitting smoking or reducing tobacco use for better implant success.
Dental implants require regular oral hygiene practices, including brushing, flossing, and professional dental check-ups, just like natural teeth. Good oral care helps ensure the longevity of your implants.
The cost of dental implants varies based on factors like the number of implants needed, the type of restoration (crown, bridge, denture), and geographic location. It's advisable to consult with a dentist for an accurate estimate.
Yes, alternatives to dental implants include removable dentures and fixed dental bridges. However, dental implants are often considered the most stable and long-lasting option for tooth replacement.
Paying For Your Dental Implants
We accept dental insurance
Payment plan options available
CareCredit financing accepted
Negah Arman
"Hands down, best dental experience I have ever had. I am very anxious and nervous when it comes to dental surgeries but Dr Arman and Dr. Agahi along with their amazing professional staff made the process so peaceful easy and frankly enjoyable. I had a couple of dental implants that were done under sleep sedation, best experience, no pain I didn't even feel I was there until I woke up. The treatment cost was very reasonable compared to my initial quotes, the technology in the entire office is top notch and modern. For anyone looking for stress free pain free SPA style dental appointment and experience I can't recommend A2 Dental Lounge enough."
Paying For Your Dental Implants
We accept dental insurance
Payment plan options available
CareCredit financing accepted
Cindy Escude
Dr. Shahriar Agahi is at the top of his field regarding both his technical expertise and communication skills. He fosters an open, communication link with and for his patients. He exhibits endless patience as he outlines procedural options and related details; in addition to, addressing any and all questions and/or concerns his patient has. His technical knowledge and skills are of expert caliber Through Dr. Agahi's kindness, insight, patience, thoughtfulness, understanding. knowledge and genuine concern, he provides his patients with Five Star Care times two! As a fyi, a bit of my background to support my belief of Dr. Agahi as an excellent Medical Provider. Over the years, due to many aggressive surgeries and treatments, I deal with complex, chronic medical challenges each and every day. Through the years, my issues require consultations and/or treatments with a wide range of Providers whose expertise crosses into numerous specialized areas. My complex dental environment significantly deteriorated the past few years, reaching a dangerous level of severity the summer of 2022.

After extensive research, God's blessing and a little luck, I had a consultation with a Specialist practicing in CA, while I reside in Utah … it was Dr Agahi. Since then, we have had many discussions regarding treatment options and detailed procedures in conjunction with my challenging medical conditions. Our conversations led to a treatment plan, scheduled surgeries of 15+ hours, many trips to CA and a healthy dental environment, in progress today, which includes 12 successful implants. With my extensive medical history and the fact I needed to consult with over 70+ Specialists, I have been exposed to numerous methods of practicing medicine within my Team. I shared a bit of myself with you to justify my ranking of Dr. Agahi within the top Specialists 5 of my entire Medical Provider Team. In addition to his technical knowledge and skills, I value most his gift to communicate and treat his patient as an individual, a person he has concerns for, an individual he cares about! I am most grateful to have found Dr. Agahi and have him as a key, crucial member of my Medical Support Team; he's the Best!
write to our
Dental Office