Gum Grafting
First Class Dental Experience
Revive Your Smile with A2 Dental's Gum Grafting Services
Your smile is a powerful expression of your personality and inner confidence, a window to your overall well-being. It has the capacity to convey warmth, approachability, and self-assuredness. Yet, when gum recession becomes a part of your oral landscape, it casts a shadow on this vital aspect of your life. It not only impacts the aesthetics of your smile, causing it to lose its luster, but also poses a substantial threat to your oral health.
This is where A2 Dental steps in as your dedicated partner, committed to helping you regain your confidence and enhancing your overall well-being through our specialized gum grafting services. We understand that a beautiful, healthy smile can make a world of difference in your life, boosting your self-esteem and enabling you to interact with others more confidently.
Gum recession, with its consequences such as heightened tooth sensitivity and an increased risk of tooth decay, can hinder your ability to enjoy life to the fullest. With A2 Dental's expertise and gum grafting solutions, we aim to restore not only your smile but also your sense of self-assuredness and your oral health. Don't let gum recession hold you back any longer; we are here to support you in your journey to a healthier, more confident you.
A2 Dental Lounge's Promise: Your Smile's Radiant Return
In the realm of oral health, your smile stands as an emblem of confidence, well-being, and self-assurance. It's a reflection of your personality and a beacon of positivity that brightens your interactions with the world. Yet, when gum recession casts a shadow over your smile, it not only mars its aesthetics but also jeopardizes your oral health. This is where A2 Dental steps in, extending a hand to guide you on a journey of transformation and revitalization.
Gum grafting, a meticulously crafted procedure, is the answer to combat the effects of gum recession. Our dedicated team of skilled periodontists, at the helm of A2 Dental, is committed to delivering this remarkably effective treatment, driven by a profound understanding of its significance in preserving the health and beauty of your smile.
Nicola Casale
"A2 Dental Lounge is the best practice ever! Gorgeous and luxurious design with state of the art technology. The staff is amazing – so kind, caring and thoughtful. They always asked how they could make the treatment the best experience and you even receive a warm washcloth after your cleaning! Dr. Arman was attentive, gentle and communicated during each step of the appointment. For anyone fearful of the dentist, this is your place! They will make you feel comfortable, put you at ease and ensure that your time with them is only positive."
WHY CHOOSE US
Our dedicated team of Orange County dentists provide personalized attention while listening to your concerns and goals. Through collaborative decision-making, we create a customized treatment plan aligned with your desires. With our unmatched expertise and compassion, trust that your smile is in the hands of professionals committed to helping you achieve the smile you deserve. Experience an elevated dental journey in our state-of-the-art facility, where comfort and advanced technology meet. At A2 Dental Lounge, your smile is our passion, and we are here to help you shine confidently with every beam.
We offer a comprehensive range of dental services, ensuring that all your oral health needs can be met under one roof. Whether you require routine check-ups and cleanings, cosmetic dentistry procedures or oral periodontal surgery, our skilled team can provide the necessary care.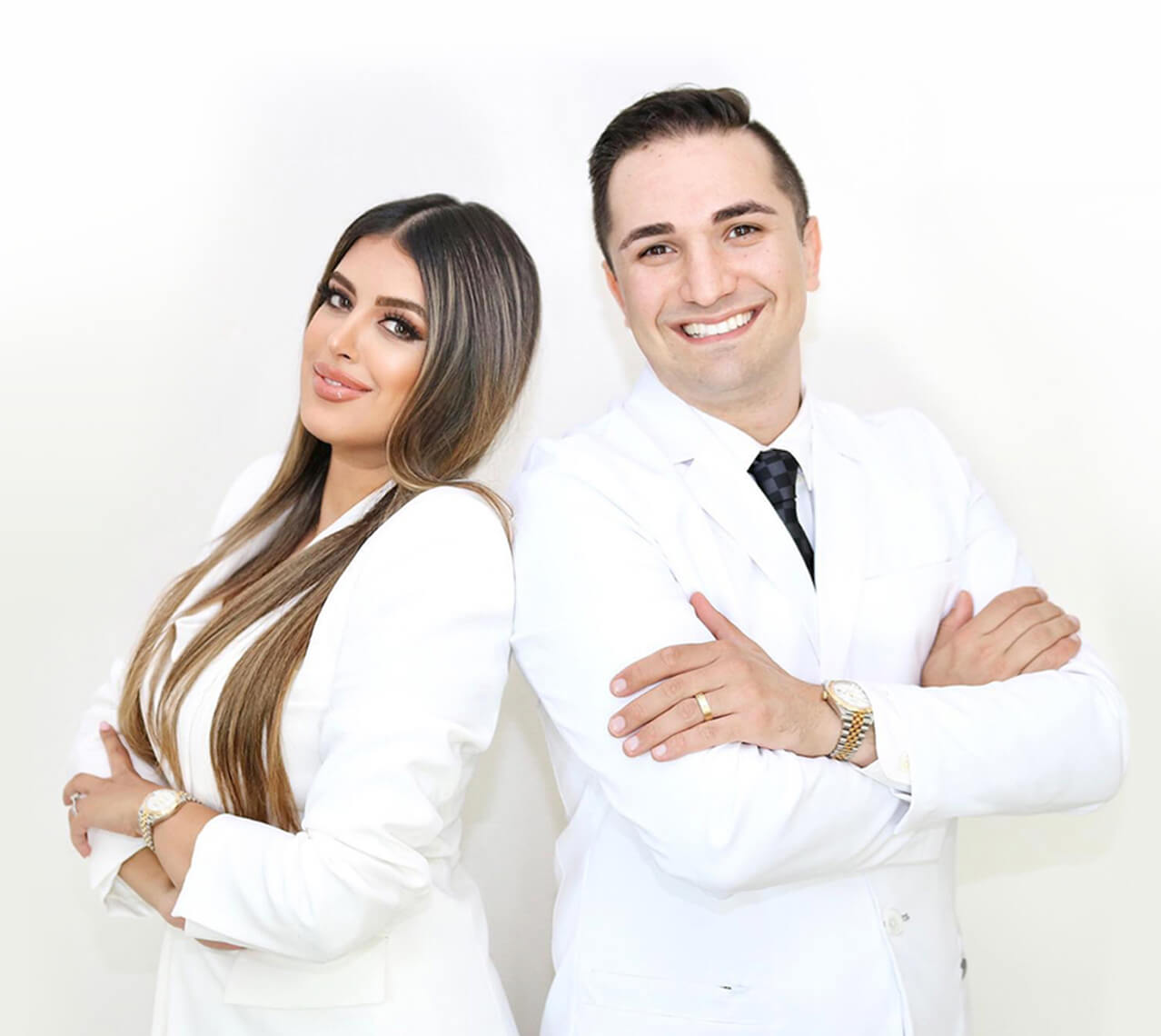 Frequently Asked Questions
Gum grafting is a dental procedure used to treat gum recession by grafting donor tissue onto the exposed or receded gum areas to restore gum height and coverage over the tooth roots.
Gum recession can lead to tooth sensitivity, root exposure, and an increased risk of dental problems. Gum grafting is necessary to prevent further recession, improve aesthetics, and protect tooth roots.
Gum recession can be caused by various factors, including gum disease (periodontitis), aggressive tooth brushing, genetics, hormonal changes, and certain medical conditions.
There are three main types of gum grafts: connective tissue grafts, free gingival grafts, and pedicle grafts. The choice of graft type depends on the specific needs of the patient.
Gum grafting is typically performed under local anesthesia, ensuring that the patient is comfortable and pain-free during the procedure. Discomfort after the surgery can be managed with over-the-counter or prescribed pain medications.
The recovery time varies depending on the extent of the graft and individual healing factors. Generally, most patients can return to their normal activities within a few days to a week after the surgery.
Complications are rare but can include infection, graft failure, or persistent sensitivity. A skilled periodontist or oral surgeon can help minimize these risks.
Most individuals with gum recession can receive a gum graft. However, eligibility depends on factors such as oral health, overall health, and the presence of gum disease.
Yes, gum grafting can improve the aesthetics of the smile by covering exposed tooth roots and creating a healthier and more balanced gumline.
Dental insurance may cover a portion of the cost of gum grafting, particularly if it is performed for medically necessary reasons. Patients should check with their insurance provider for specific coverage details.
Paying For Your Dental Implants
We accept dental insurance
Payment plan options available
CareCredit financing accepted
Cindy Escude
Dr. Shahriar Agahi is at the top of his field regarding both his technical expertise and communication skills. He fosters an open, communication link with and for his patients. He exhibits endless patience as he outlines procedural options and related details; in addition to, addressing any and all questions and/or concerns his patient has. His technical knowledge and skills are of expert caliber Through Dr. Agahi's kindness, insight, patience, thoughtfulness, understanding. knowledge and genuine concern, he provides his patients with Five Star Care times two! As a fyi, a bit of my background to support my belief of Dr. Agahi as an excellent Medical Provider. Over the years, due to many aggressive surgeries and treatments, I deal with complex, chronic medical challenges each and every day. Through the years, my issues require consultations and/or treatments with a wide range of Providers whose expertise crosses into numerous specialized areas. My complex dental environment significantly deteriorated the past few years, reaching a dangerous level of severity the summer of 2022.

After extensive research, God's blessing and a little luck, I had a consultation with a Specialist practicing in CA, while I reside in Utah … it was Dr Agahi. Since then, we have had many discussions regarding treatment options and detailed procedures in conjunction with my challenging medical conditions. Our conversations led to a treatment plan, scheduled surgeries of 15+ hours, many trips to CA and a healthy dental environment, in progress today, which includes 12 successful implants. With my extensive medical history and the fact I needed to consult with over 70+ Specialists, I have been exposed to numerous methods of practicing medicine within my Team. I shared a bit of myself with you to justify my ranking of Dr. Agahi within the top Specialists 5 of my entire Medical Provider Team. In addition to his technical knowledge and skills, I value most his gift to communicate and treat his patient as an individual, a person he has concerns for, an individual he cares about! I am most grateful to have found Dr. Agahi and have him as a key, crucial member of my Medical Support Team; he's the Best!
write to our
Dental Office