Frenectomy
First Class Dental Experience
The Hidden Power of Frenectomy: Redefining Oral Freedom
In the sprawling and ever-bustling landscape of Orange County, California, where smiles are as bright as the sun, there lies a secret world of dental procedures that can significantly impact the lives of countless individuals. One such procedure is the Frenectomy, a term that might not roll off the tongue as easily as "tooth extraction" but holds the potential to change lives in profound ways. Welcome to A2 Dental, the epitome of Orange County dentists' expertise, where we unlock the mysteries of Frenectomy to bring you the joy of a healthier, more vibrant smile.
The Hidden Power of Frenectomy: Redefining Oral Freedom
In a world where teeth whitening and orthodontics often steal the dental spotlight, Frenectomy remains an unsung hero, a life-changing procedure that deserves its place in the limelight. But what exactly is Frenectomy?
Frenectomy is a surgical intervention that deals with a seemingly small yet significant piece of oral anatomy – the frenulum. This tiny fold of tissue connects various parts of your mouth, including the lips, tongue, and cheeks, to the gums. Despite its small size, the frenulum plays a critical role in oral function and speech.
Frenectomy is most commonly performed on the lingual frenulum, which connects the underside of the tongue to the floor of the mouth, but it can also be done on the labial frenulum (connecting the upper lip to the upper gum) and buccal frenulum (connecting the cheeks to the gums). The procedure involves precisely altering or removing the frenulum to improve oral function, speech, and overall quality of life.
Frenectomy: Lifeline for All Ages – From Infants to Adults
Frenectomy might not be as widely discussed as cavity fillings, but it's a procedure that's more common than you might think. The need for Frenectomy isn't confined to any particular age group; it spans across the entire spectrum of life, from infants to adults.
Frenectomy is a procedure that knows no age limits. It's a versatile solution that addresses a range of oral and speech-related issues, making it relevant for individuals at various stages of life. Let's delve into the diverse scenarios where Frenectomy can be a game-changer and the numerous benefits it brings.
Unlock Your Brightest Smile with A2 Dental: Your Smile, Our Priority
In the vibrant tapestry of Orange County, California, where smiles radiate positivity, Frenectomy remains a relatively unknown but life-changing procedure. A2 Dental, the pinnacle of Orange County dentists' expertise, unlocks the mysteries of Frenectomy to bring you a healthier, more vibrant smile. If you or your loved one are in need of a Frenectomy, consider A2 Dental as your trusted partner in this journey.
Our team of dedicated professionals is ready to guide you through the process, ensuring that you or your child experience the full spectrum of benefits that Frenectomy can provide. From improved breastfeeding for newborns to enhanced speech and self-esteem for adults, Frenectomy is a versatile solution that can change lives.
Nicola Casale
"A2 Dental Lounge is the best practice ever! Gorgeous and luxurious design with state of the art technology. The staff is amazing – so kind, caring and thoughtful. They always asked how they could make the treatment the best experience and you even receive a warm washcloth after your cleaning! Dr. Arman was attentive, gentle and communicated during each step of the appointment. For anyone fearful of the dentist, this is your place! They will make you feel comfortable, put you at ease and ensure that your time with them is only positive."
WHY CHOOSE US
Our dedicated team of Orange County dentists provide personalized attention while listening to your concerns and goals. Through collaborative decision-making, we create a customized treatment plan aligned with your desires. With our unmatched expertise and compassion, trust that your smile is in the hands of professionals committed to helping you achieve the smile you deserve. Experience an elevated dental journey in our state-of-the-art facility, where comfort and advanced technology meet. At A2 Dental Lounge, your smile is our passion, and we are here to help you shine confidently with every beam.
We offer a comprehensive range of dental services, ensuring that all your oral health needs can be met under one roof. Whether you require routine check-ups and cleanings, cosmetic dentistry procedures or oral periodontal surgery, our skilled team can provide the necessary care.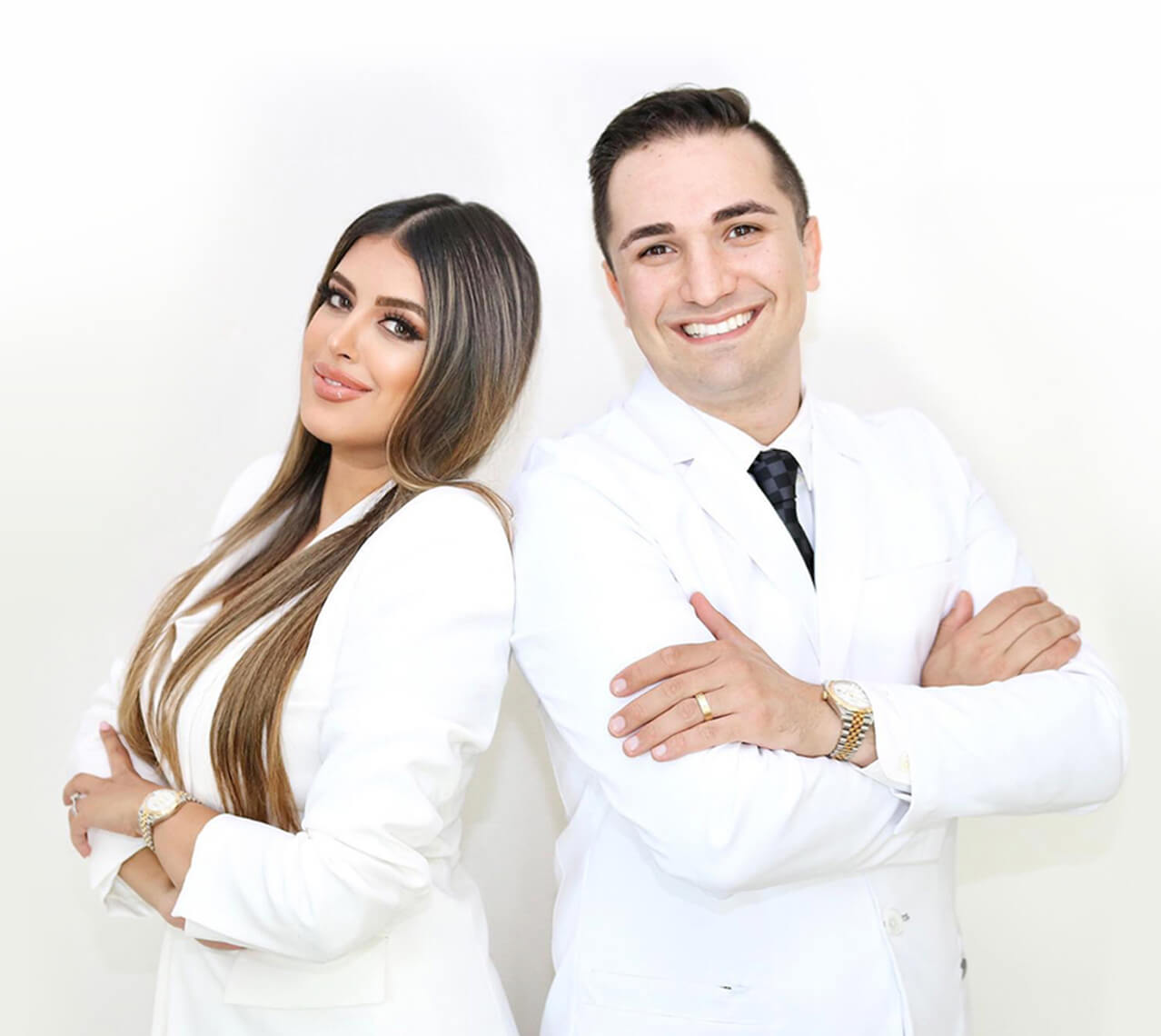 Frequently Asked Questions
A frenectomy is a surgical procedure that involves the removal or alteration of a frenulum, a small fold of tissue in the mouth. It is typically performed in the oral cavity, commonly on the lingual frenulum (under the tongue) or the labial frenulum (between the upper front teeth and the lip).
A frenectomy may be performed to address issues such as tongue tie (ankyloglossia), lip tie, or a frenulum that restricts normal movement and function in the mouth. It can help improve speech, eating, and oral hygiene.
Tongue tie is a condition where the lingual frenulum, the band of tissue beneath the tongue, is unusually short or tight. This condition can restrict the tongue's range of motion, affecting speech and feeding in infants and children.
Frenectomies can be performed on individuals of all ages, from infants with feeding difficulties to adults with speech or oral health issues related to a restrictive frenulum.
A frenectomy is typically performed using a scalpel or laser, depending on the preference of the dentist or oral surgeon. The procedure is usually quick and minimally invasive.
Frenectomies are typically performed under local anesthesia, so patients should not feel pain during the procedure. Some post-operative discomfort is common but can be managed with over-the-counter pain medications.
The recovery time varies, but most patients can resume normal activities within a few days. It's important to follow post-operative care instructions provided by the dental professional.
While complications are rare, potential risks include infection, bleeding, and scar tissue formation. Proper post-operative care can help minimize these risks.
Frenectomies are often considered medically necessary, especially for infants with feeding difficulties or individuals with speech issues. Insurance may provide partial coverage, but it's important to check with the insurance provider for details.
A frenectomy should be performed by a qualified dental professional, such as a dentist or oral surgeon, who has experience in performing the procedure and can provide proper care and guidance throughout the process.
Frenectomy is a valuable procedure that can improve oral function and quality of life for individuals with restrictive frenula. It's important to consult with a dental professional to determine if a frenectomy is necessary and to receive appropriate care.
Paying For Your Dental Implants
We accept dental insurance
Payment plan options available
CareCredit financing accepted
Cindy Escude
Dr. Shahriar Agahi is at the top of his field regarding both his technical expertise and communication skills. He fosters an open, communication link with and for his patients. He exhibits endless patience as he outlines procedural options and related details; in addition to, addressing any and all questions and/or concerns his patient has. His technical knowledge and skills are of expert caliber Through Dr. Agahi's kindness, insight, patience, thoughtfulness, understanding. knowledge and genuine concern, he provides his patients with Five Star Care times two! As a fyi, a bit of my background to support my belief of Dr. Agahi as an excellent Medical Provider. Over the years, due to many aggressive surgeries and treatments, I deal with complex, chronic medical challenges each and every day. Through the years, my issues require consultations and/or treatments with a wide range of Providers whose expertise crosses into numerous specialized areas. My complex dental environment significantly deteriorated the past few years, reaching a dangerous level of severity the summer of 2022.

After extensive research, God's blessing and a little luck, I had a consultation with a Specialist practicing in CA, while I reside in Utah … it was Dr Agahi. Since then, we have had many discussions regarding treatment options and detailed procedures in conjunction with my challenging medical conditions. Our conversations led to a treatment plan, scheduled surgeries of 15+ hours, many trips to CA and a healthy dental environment, in progress today, which includes 12 successful implants. With my extensive medical history and the fact I needed to consult with over 70+ Specialists, I have been exposed to numerous methods of practicing medicine within my Team. I shared a bit of myself with you to justify my ranking of Dr. Agahi within the top Specialists 5 of my entire Medical Provider Team. In addition to his technical knowledge and skills, I value most his gift to communicate and treat his patient as an individual, a person he has concerns for, an individual he cares about! I am most grateful to have found Dr. Agahi and have him as a key, crucial member of my Medical Support Team; he's the Best!
write to our
Dental Office