Removable Partial Dentures
First Class Dental Experience
Discovering the Artistry of Removable Partial Dentures
In the vibrant heart of Orange County, where the Californian sun graces the palm-lined streets with its golden touch, A2 Dental Lounge emerges as the pinnacle of oral health excellence. Among the myriad services we offer, Removable Partial Dentures shine as a transformative solution for restoring not only the aesthetics but also the functionality of your smile. As we embark on this illuminating journey, our mission is to not only provide answers but to ignite your understanding of this ingenious dental remedy. At A2 Dental Lounge, we bring to life the vision of Removable Partial Dentures, elegantly composed of a blend of acrylic or metal, designed to expertly mimic the aesthetics and functions of your natural teeth. These are not just prosthetics; they are works of art crafted with precision and care.
In our corner of Orange County, where the community's smiles are as diverse as the people themselves, A2 Dental Lounge stands as a stalwart companion in their journey toward dental wellness. Whether you are a young adult who lost a tooth in a sporting accident, a working professional yearning for that perfect smile, or a seasoned senior looking to maintain your health, Removable Partial Dentures offer the solution you've been searching for. And we, as experienced Orange County dentists, take immense pride in offering these versatile solutions that cater to the unique needs and preferences of every individual.
How Removable Partial Dentures Restore Your Confidence
Removable Partial Dentures are dental prosthetics that replace missing teeth while being easily removable. Removable Partial Dentures are masterpieces in the realm of dental restoration. They represent the fusion of art and science, a testament to human ingenuity in recreating the elegance and functionality of natural teeth. At A2 Dental Lounge, we take great pride in offering these remarkable dental prosthetics to our patients in the heart of Orange County.
Picture this: a finely crafted dental apparatus made from a blend of premium materials, typically acrylic or metal, designed to expertly mimic the aesthetics and functions of your original teeth. These prosthetics are tailor-made to fill the gaps left by missing teeth. With painstaking precision, they harmoniously blend with your existing dentition, providing you with a renewed smile that appears so natural, even you might forget it's there.
But Removable Partial Dentures are not just about appearances; they are equally concerned with functionality. Eating, speaking, and smiling – these activities may seem ordinary, but when missing teeth disrupt them, the impact on your quality of life can be profound. This is where Removable Partial Dentures shine. They restore your ability to chew your favorite foods, speak clearly, and exude confidence in your everyday interactions.
At A2 Dental Lounge, we consider these dentures as functional pieces of art. Our team of dedicated and experienced Orange County dentists meticulously craft each set, ensuring that they not only meet but exceed the expectations of our well-informed patients. We understand that your smile is a reflection of your individuality, and Removable Partial Dentures are designed to preserve that uniqueness. With these remarkable dental solutions, you can enjoy a smile that is as functional as it is beautiful, giving you the confidence to embrace life to the fullest.
Nicola Casale
"A2 Dental Lounge is the best practice ever! Gorgeous and luxurious design with state of the art technology. The staff is amazing – so kind, caring and thoughtful. They always asked how they could make the treatment the best experience and you even receive a warm washcloth after your cleaning! Dr. Arman was attentive, gentle and communicated during each step of the appointment. For anyone fearful of the dentist, this is your place! They will make you feel comfortable, put you at ease and ensure that your time with them is only positive."
WHY CHOOSE US
Our dedicated team of Orange County dentists provide personalized attention while listening to your concerns and goals. Through collaborative decision-making, we create a customized treatment plan aligned with your desires. With our unmatched expertise and compassion, trust that your smile is in the hands of professionals committed to helping you achieve the smile you deserve. Experience an elevated dental journey in our state-of-the-art facility, where comfort and advanced technology meet. At A2 Dental Lounge, your smile is our passion, and we are here to help you shine confidently with every beam.
We offer a comprehensive range of dental services, ensuring that all your oral health needs can be met under one roof. Whether you require routine check-ups and cleanings, cosmetic dentistry procedures or oral periodontal surgery, our skilled team can provide the necessary care.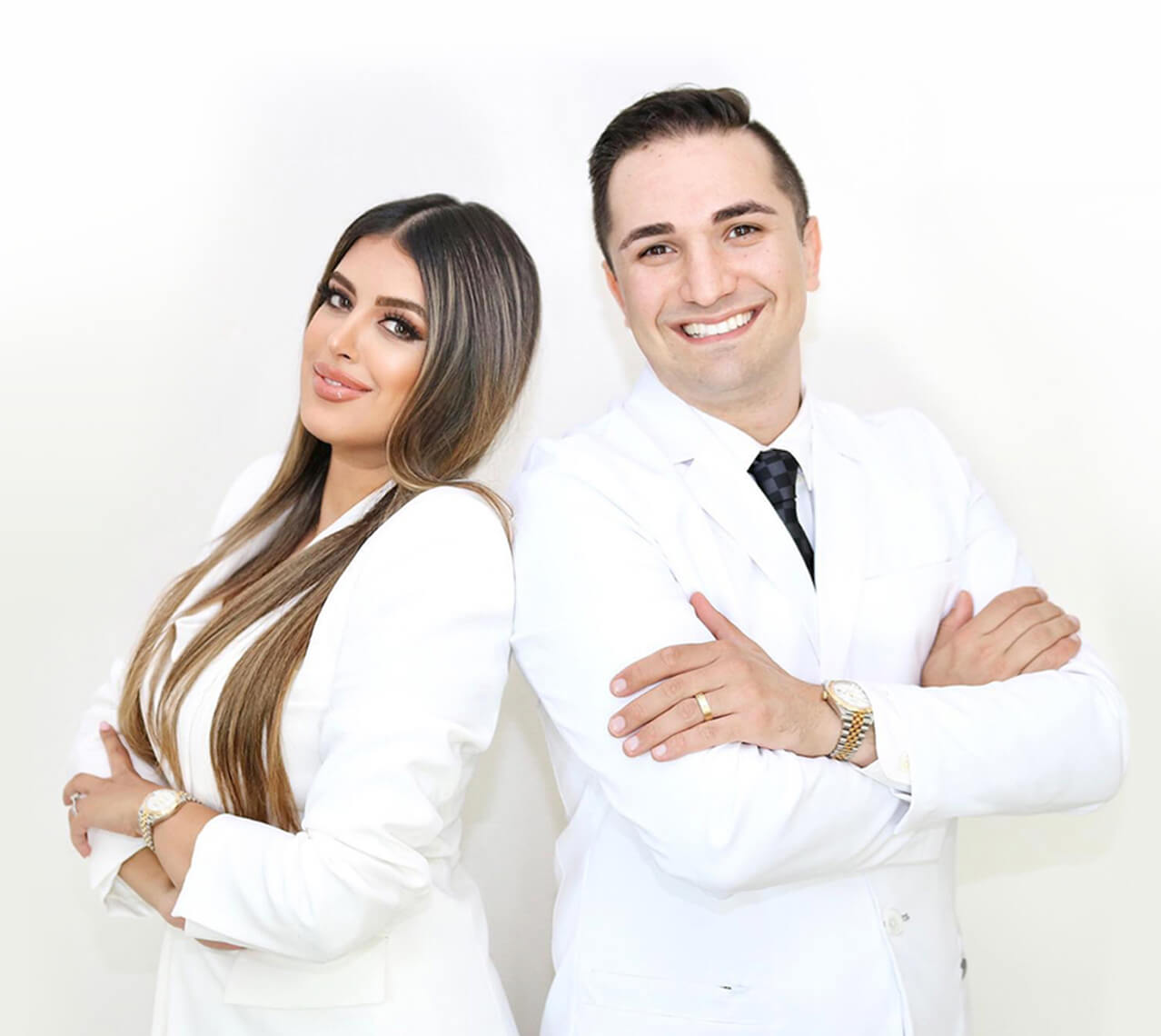 Frequently Asked Questions
Removable partial dentures are dental appliances used to replace missing teeth when some natural teeth remain in the upper or lower jaw. They consist of artificial teeth attached to a framework that can be removed and reinserted by the patient.
RPDs are recommended when a person has one or more missing teeth but still has some natural teeth remaining, making them suitable candidates for this type of dental prosthetic.
Removable partial dentures are typically held in place using metal or plastic clasps that grip onto the remaining natural teeth. They may also have precision attachments for added stability.
With proper adjustment and fitting by a skilled dentist, removable partial dentures can be comfortable to wear. It may take some time for the patient to adjust to wearing them initially.
Initially, RPDs may affect speech and eating, but most patients adapt quickly and regain their normal function over time.
RPDs should be removed daily for cleaning. They should be brushed with a denture brush and soaked in a denture-cleaning solution overnight. Regular dental check-ups are essential for adjustments and maintenance.
Yes, damaged RPDs can often be repaired by a dentist or dental technician. It's essential to avoid attempting repairs at home, as improper handling can worsen the damage.
Initially, patients may need to avoid hard or sticky foods to prevent damage to the dentures or discomfort. Over time, they can typically eat a wide range of foods with some caution.
The lifespan of removable partial dentures varies depending on factors like wear and tear, oral health, and care. On average, they may last about 5 to 10 years or longer with proper maintenance.
Yes, alternatives include dental bridges, dental implants, or a combination of these options. The choice of treatment depends on individual needs and preferences, which a dentist can discuss.
Paying For Your Dental Implants
We accept dental insurance
Payment plan options available
CareCredit financing accepted
Cindy Escude
Dr. Shahriar Agahi is at the top of his field regarding both his technical expertise and communication skills. He fosters an open, communication link with and for his patients. He exhibits endless patience as he outlines procedural options and related details; in addition to, addressing any and all questions and/or concerns his patient has. His technical knowledge and skills are of expert caliber Through Dr. Agahi's kindness, insight, patience, thoughtfulness, understanding. knowledge and genuine concern, he provides his patients with Five Star Care times two! As a fyi, a bit of my background to support my belief of Dr. Agahi as an excellent Medical Provider. Over the years, due to many aggressive surgeries and treatments, I deal with complex, chronic medical challenges each and every day. Through the years, my issues require consultations and/or treatments with a wide range of Providers whose expertise crosses into numerous specialized areas. My complex dental environment significantly deteriorated the past few years, reaching a dangerous level of severity the summer of 2022.

After extensive research, God's blessing and a little luck, I had a consultation with a Specialist practicing in CA, while I reside in Utah … it was Dr Agahi. Since then, we have had many discussions regarding treatment options and detailed procedures in conjunction with my challenging medical conditions. Our conversations led to a treatment plan, scheduled surgeries of 15+ hours, many trips to CA and a healthy dental environment, in progress today, which includes 12 successful implants. With my extensive medical history and the fact I needed to consult with over 70+ Specialists, I have been exposed to numerous methods of practicing medicine within my Team. I shared a bit of myself with you to justify my ranking of Dr. Agahi within the top Specialists 5 of my entire Medical Provider Team. In addition to his technical knowledge and skills, I value most his gift to communicate and treat his patient as an individual, a person he has concerns for, an individual he cares about! I am most grateful to have found Dr. Agahi and have him as a key, crucial member of my Medical Support Team; he's the Best!
write to our
Dental Office